As a search engine expert you've probably heard a lot about building links but there is so much that you may still be doing wrong. There are so many link building practices which were deemed ineffective after Google Panda and Google Penguin updates. If you are not aware of these black hat practices, you can refer to an article which we previously did on poor link building techniques to avoid.
Before we get to the way link building should be performed, it is important to understand why links are important in the first place.
The Importance of Good Quality Links
Links can be described as votes. Whenever someone links to your site, they are voting for your site as a reliable source of information. If many people link to your site, it means that you are obtaining many votes and your website's authority improves significantly. Websites that get more votes (links) are given a higher ranking because search engines consider them a good source of information. That is why other than social factors and great content, link building is a very critical aspect in SEO.
Link building is also important because it makes it easier for search engines to crawl your website. If other websites do not link to your site, then search engines will not crawl your site very often. The number of links to your site also affects the pagerank. Sites with many links have a high pagerank and are therefore crawled more often by search engines. Basically links to your websites are like endorsements. Its like other people are recommending you for information on a particular subject.
Remember that you want your content to be crawled as deeper and often as possible by Google because it will boost your page rankings.
Characteristics of High Quality Links
Know that you know how important it is to have many links on your site, it's easy to be tempted to include low quality links on your web pages. Low quality links will only create a major disaster on your website and brand online. Links of poor quality will lower your overall rankings and undermine your authority online.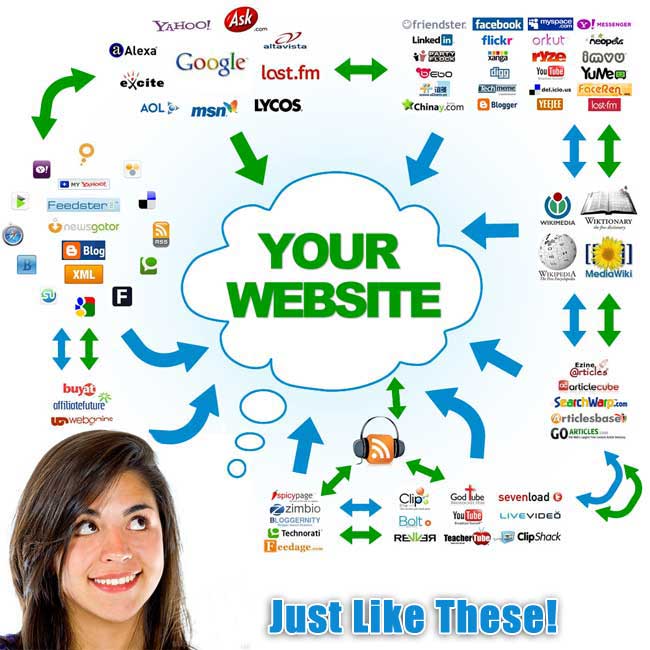 There are generally 3 things that describe high quality links:
Trust
Relevance
Diversity
Let's look at each of these in detail.
Trust
All the links on your web pages should be from trusted websites. How will you know whether a website is trusted? You can check the site's Page Rank. If the page rank is high then it is likely to be a trusted website. However, there are sites which have a high page rank but they have multiple spam pages. You need to avoid links from such websites.
Relevance
A high quality link will be relevant to the page where it is posted. Make sure the anchor text is related to the link. Search engines like Google will look at the anchor text first in order to get an idea of what the content of the link is before they even crawl it. If the anchor text is misleading then consider that a low quality link. However, today Google is no longer using anchor text as a ranking factor. This is because many people do not link using the exact anchor text.
Diversity
It is important to diversify your links. What does this mean? In simple terms, getting links from different domains is better than sticking to a single domain. It is ok to get links from the same domains but only when they are relevant. However, getting links from different domains is more advantageous because it gives your website more votes from more people. When you get links from the same domain all the time, Google looks at it like you are getting votes from the same person which is not good SEO-wise.
Quality or Quantity, Which is more Important in Link Building?
The issue as to whether you need to focus on quality links or the volume of links you have on your site has been an ongoing debate. There are industries that are very competitive and for you to appear among the first pages, you must have a good number of links especially if you have a brand new domain. Brand new domains need to concentrate on the volume of links- without compromising on quality, in order to stand a chance of competing with older domains.
In order to determine just how many links you need, it is important to perform a competitor analysis. How many links do your competitors have? How many links do you currently have? If you discover that you will require hundreds, if not thousands of links in order to catch up, you need to come up with link building strategies which are designed to produce volumes of links within a short time.
Kindly note, we are not recommending any spam techniques to generate a high volume of links. Do not begin to post spammy blog comments or buy links because this will not help. You will still have to put more focus on quality links bearing in mind that you need to keep the numbers up in order to catch up. It may take longer than you want to get the volume you need to catch up with your competitors but it is best to conduct white hart techniques that will build a long term online presence.
How to deal with Low Quality Links on your Web Pages
Bad links will attract some nasty penalties from Google so it is always best to get rid of them completely. You need to perform link profile analysis on a regular basis in order to see which links could hurt your site and get rid of them. You also need to learn how to get rid of these links once and for all.
Eliminating or even spotting low quality links on web pages is something only experienced SEOs can do. There is so much to learn about how to eliminate poor quality links on your site and you would rather hire an SEO expert to do the job fast and effectively.
We will be explaining how to spot and eliminate bad links on a web page so keep following our blog.