More companies in Kenya are increasingly investing in websites to tap on the online business. With the recent investment by the Kenyan government on ICT infrastructure, it has become quite clear that the internet is an open place to target customers. If you are a business and do not have a decent website designed for your company, you need to re-evaluate your goals in order to remain competitive in this country. Web design in Kenya has grown over the year and various website trends have evolved throughout the world.
With a population of about 48 million by March 2017, Kenya had an estimated 39.6 million internet users. This translates to a penetration of about 81.8%, which is pretty impressive, especially going by African standards. Facebook alone has 5.5 million Kenyan users.
Particular website design trends that defined past years are practically obsolete in today's times. There was a time that using flash on multimedia on your website was a great idea. However, right now, using flash on a website is not so great an idea. Apart from posing security risks on the website, it never works on some mobile devices and there are very many better solutions to handling multimedia on a website.
Trends in Web Design in Kenya in 2018
So, what does 2018 look like as far as website design in Kenya is concerned? We shall explore some of the popular trends that every website owner must try to achieve. The main aim of trends is to ensure that your website visitors have a great experience visiting your website. Visitors should either get the information they wanted or actually buy whatever products or services you are offering.
#1 Think Mobile
Mobile users have definitely overtaken desktop users in Kenya. There, this means that many Kenyans use their phones to access the internet as compared to PC users. So, what does this mean if your website is not mobile friendly?
Conversion on a website greatly depends on the experience that users get on your website. If your website is not mobile responsive and adapting to various mobile devices across different platforms, you will definitely lose out on a good number of clients.
Most of the other website trends we shall see in 2018 and beyond will mostly be centered towards the mobile experience and performance. New technology has definitely revolutionized mobile browsing and opened up a whole new mobile internet world. We have seen the rise of conversation bots, voice search, geolocations among other mobile technologies that will really shape up website mobile performance in 2018 and beyond.
#2 The Rise of Web Apps
89% mobile media time can be accredited to mobile apps and there is no doubt that mobile apps have increasingly become popular over time. This has called on progressive web apps to be explored. These apps are basically a hybrid of your normal mobile apps with your behaviors of your normal website pages.
There are different functionalities that will come with the use of progressive web apps such as push notifications, offline web access and page transition animation. Such functionalities on the websites will greatly improve the mobile experience of users.
There are very many websites that have already started the use of progressive web apps and this is seen to be a game changer for improving the mobile performance of websites. There will be more functionalities introduced to further enhance progressive web apps. Web apps will be automated in such a way that they can learn various preferences from users and react according to what the user might want to see. A good example can be Google where you can see certain information, especially on adverts, that you might be particularly interested in. This has been brought about by the great strides we have made on Natural Language Processing (NLP) and automation.
#3 Natural Language Processing
Natural Language Processing is basically a way for the machine to understand the normal language by humans and provide feedback to the user accordingly. This has been explored by voice search. You can simply use voice search on search engines rather than the normal typing of keywords on searches. In other words, you can have a conversation with the computer to and it is able to recognize whatever it is that you are asking.
This will greatly help you navigate websites and find information faster.
#4 Intelligent Chatbots
With the hybrid system of web pages and mobile apps, you will find that we can have more functionalities embedded in our websites. We can there see the rise of intelligent chatbots on websites that can be automated to engage visitors on the website.
Your website visitors may be able to ask questions and directly get answers from the intelligent chatbots even if it's late in the night. This can greatly help your website and consequently your business to operate around the clock.
#5 Incorporating Facebook Marketing with your Business
It is without a doubt that Facebook is the most popular social media platform in Kenya. Facebook has over 5.5 million users in Kenya and has been rolling out great features that can be used alongside the website for great results. As much as this would seem more of a marketing strategy other than a web design trend, it is just as important.
The biggest mistake you can ever do is develop a great website and not putting any effort to market it online. Facebook is basically the content hub and you can help drive traffic to your website through Facebook.
Some of the features that can become more popular for businesses on Facebook in 2018 include the Facebook Live which allows you to livestream and the Live Chat features where your clients can directly engage you on Facebook chat when you are online.
#6 Security on Apps and Websites
While we are looking at design trends, security has also become a very big issue as we get to 2018. We have seen the atrocities caused by different malware that have affected websites and mobile phone. 2017 also brought us understand the devastating effect of ransomware.
Security will therefore be a key issue when designing your website. You will want your website users to have confidence when navigating through your website or downloading any content from your website. A simple thing such as a contact form on a website or login page can cause serious security threats.
More websites will need to use HTTPS to ensure that any information provided by a website user passes through secure channels. Personal data that users submit to your website must always be secure because we have definitely not seen the end of malware and ransomware.
#7 Big and Bold Typography
Many brands have started using bold and beautiful typography to capture attention of users and we may see different brands in 2018 trying to push the limit with typography. You can use typography artistically to set tones and evoke different emotions you may want to achieve.
There is a lot of creativity in design needed when it comes to effective use of typography in the designing of your website. We will wait to see how Kenya website designers will explore this, especially with parallax scrolling.
#8 Authentic Photography for your Website
Many clients simply want a website design and if you are lucky, you will get that the client at least has a business profile. Many companies in Kenya do not provide professional photos to be used on the website. They do not see it as a big deal, but it actually is.
Finding freestock images online to use on a website to perfectly suit your need may be a hustle. Hence, most designers resolve to using random images online that might spark a legal tussle if the owners find their images put into commercial use.
Serious brands and companies who want to have a strong online presence will invest in professional photography to incorporate in their website. Photography or imagery has remained as one of the most important aspect of web designs, that can either make or break your design. Customized professional photos that represent the brand can in a big way build trust and loyalty in the brand.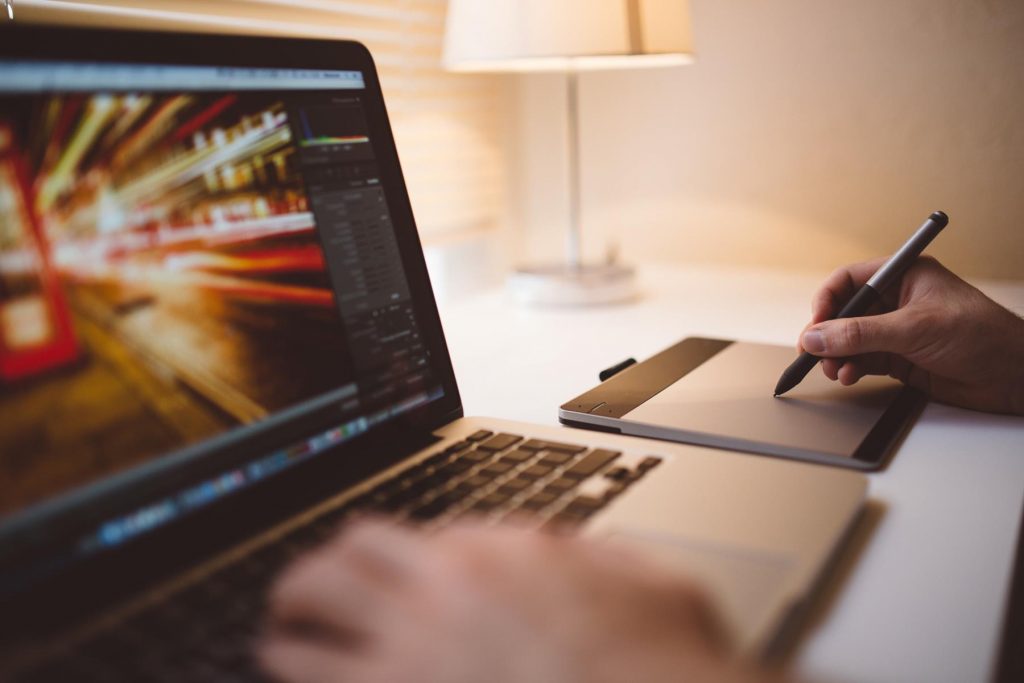 #9 Incorporating UI Animations in Wepages Designs
In 2018, we might witness more motion on different web pages as many websites have started using different animation option available on their website. Video backgrounds and GIFs will be used more in web design to make website pages more interesting for visitors. We shall see the rise of animations that can be triggered by scrolling. However, Kenyan website designers are known to exaggerate certain design trends and overdoing animations can negatively impact the website.
While flash used to be the popular tool for animation, website designers now have to get creative with CSS transitions or make use of various great tools like GreenSock that will help in bringing about beautiful animations in the website design. Once the popularity of UI animations catches up, we shall definitely get more tools for web designers in Kenya to use.
#10 More Tools to make Web Design Easier
10 years ago, you were either a web designer or not. Everything depended on your creativity in coding. However, things have become easier over time and website designing has also subsequently become easier. Tools have made it easier to come up with beautiful website designs and greatly reduced the time taken to design a website.
At one point in time, Dreamweaver used to be the most popular tools for website development in Kenya. However, over time we have seen the rise of great website development tools like Webflow, Froont and Macaw. Adobe is also still one of the popular design option as their tool suite offers a lot of solutions that a website designer may need.
We will also see more use of CMSs like WordPress, Drupal and Joomla in Kenya. Joomla seems to be popular among website developers in Kenya. However, from a marketing and design point of view, WordPress offers more flexibility and therefore we can predict more use of WordPress in 2018 in Kenya.
Some plugins have also further made design work easier and we shall see more use of these tools come 2018. A good example that has been widely used in 2017 is the Visual Composer on WordPress. Visual Composer has made it easier for designers to organize content on the website and come up with beautiful web page designs.
How Ready is your Website Design for 2018 and Beyond?
If your website is not really focused on recent trends, you could experience a decrease in traffic and conversion. You will find that you need have a bigger online marketing budget with very little results. No matter how good your online marketing strategies are, it is important that always start with the website. Do you research well before time and make sure that your website design is perfect for maximization of conversion.
We have carefully researched on emerging trends in 2017 to come up with these 10 trends that we think will define website design in Kenya in 2018. What else do you think will define 2018 website design trends in Kenya? Please share with us