Contrary to what many people would think, Google as a company totally loves Search Engine Optimization. SEO makes work a lot easier for Google in their quest to provide the best information to their online community. Therefore, Google provides tools for webmasters and SEO experts to help them in search engine optimization of their web properties.
Google offers beginner webmasters a comprehensive guide on what are the best practices when it comes to web design and SEO practices that webmasters must ensure to use. This helps beginners so much because of the fact that SEO is a rather complex aspect of internet marketing and beginners can easily get lost.
Using Google guides is a great idea because that just means that you are using the best practices possible and in no time your site visibility will improve. Just having a beautiful website online is not enough. One has to make sure that they market the site online so that it becomes more visible to the potential clients on the online community.
The best thing about the SEO tools that Google provides is that they are absolutely free. A beginner does not need to worry about raising a huge amount of cash just to buy software that will help them optimize their website for Google.
Search Engine Optimization is not just done for Google. However, Google enjoys the greatest share in the market followed by other competitors like Bing and Yahoo. In most cases, you need not worry so much about the other search engines because once your website is optimized for Google Searches, you will easily find that it is optimized for Bing, Yahoo and other search engines as well. In short, Google is the mother of search engines online.
Top 5 SEO Tools by Google
Below we are going to outline the top 5 SEO tools in 2014 that you should totally use as a beginner and they are all by Google. In other words, Google would love you back if you use them for your SEO campaigns online.
The Google Search Tool
Yes, what better place to start out than the Google search tool itself. As you have already realized, the integral part of SEO is Keyword research. You need to know what the best keywords are, that you want your website to be associated with.

When you visit google.com and start typing out a search string, you will find a list of suggestions that drop down to complete your keyword. This is called the Google Instant. These suggestions are actually keywords that other visitors have typed in while searching for information on the particular field.
Many people have never realized the importance of this tool. It can be very useful especially after algorithm changes by Google rendering many keyword tools that were used before useless. This is a very useful tool for regular online searchers but if you are looking for keywords to use for a blogpost, this is absolutely critical data that you get from Google themselves.
When doing your keyword research, you will find that longtails are very important for you to optimize your posts. The Google instant freely gives you these long tails that you can use for your posts. The Google Instant provides you with a bunch of suggestions that you can later use in the step that follows.

TIP: For easier results, you can use an online tool known as ubersuggest(http://ubersuggest.org/). This will provide you with the Google Instant results that you can put to use.
The second step requires a keen eye. You need to use the keywords that you have in the Google search and look at the results that come out. Just look at the results and simply ask yourself which of the results provided are you likely to click on.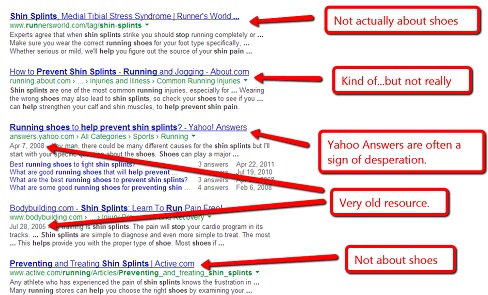 If you check through the top results and find that they are all of poor quality, you should be very happy. That means that Google are desperate for quality content on that particular search and therefore this will be your cue to go. Using info that we found from the previous photo, here are the results that we have analyzed.
After you have found the best keywords to use, you now need to carefully do more analysis on what you have to find out what you are up against. This takes us to the second tool you need to use.
The Google Keyword Tool
This is another awesome SEO tool by Google that you need to use for you campaign. It is known as the Google Keyword Tool. It is a tool you can find with the Google Adwords. You can simply google the term Keyword Tool on google.com and click on the first result you will find.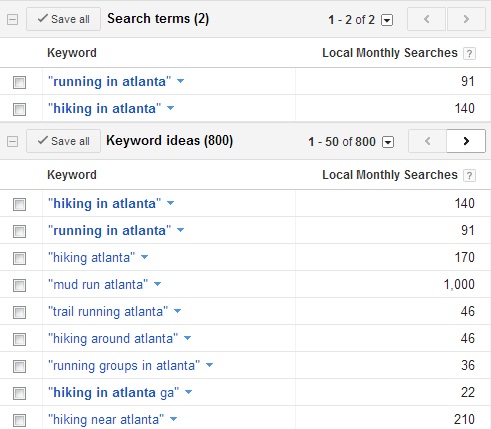 Visit Google Adwords(http://adwords.google.com) and create a free account to get you started on your research. The Google Adwords is mainly used for Ads but in our case we are simply using it to get keyword ideas, analyze their monthly searches volumes to have an idea on what the best keywords to use are.
The Keyword tool is simple to use. You can simply put the keywords that you have on the space provided i.e. one keyword per line. On the left panel, you will find a couple of options and you need to choose the 'Phrase Match' so that we get info on the exact keyword's appearance on searches.
Then you can select global if you are interested in global results of the keyword analysis or simply choose local. You will get results that are analyzed by the Google Keyword Tool over a period of about a year.
Google Trends Tool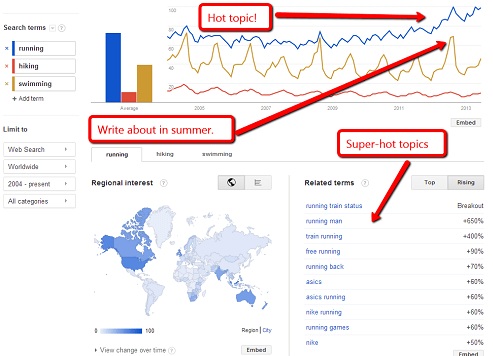 Another important tool that you need to use is known as Google Trends. This is if you are confident that the keywords you have are great for your website or blog and you want to know what the current trends are around the same.
This tool is amazing for SEO beginners as it helps them to simply learn what the trending topics are during different times of the year so that they can blog or write about. The results that you find from the Trend are analyzed from search results on Google and they are provided to the user in a historical chronology.
Trends can also provide you this info according to geographical trends so that you can target specific locations with various trending topics throughout the year.
The Google Analytics Tool
This is another free analysis tool that is provided by Google for SEO Beginners. All you need to do is sign up for the free account and the set up is very easy for any webmaster. All you have to do is verify ownership of the site that you want analysis on by uploading a file they provide you with in the root folder.

This is a tool that you need to have for your site and there is no excuse because it is absolutely free and it takes a minute to set up. Google Analytics simply provides all the statistics you need about your website visitors.
From the number of visitors, their activities on the website, their geographical locations and much more. The best thing about Google Analytics is that it can even provide you with real-time info on all these stats.
This tool helps you to see keywords that brought traffic to your site organically. This awesome because it can help you plan ahead and know what you really need to push for. You can find this tool under Acquisition >>> Channels >>> Organic Search.
You will find that results there will be set as (not provided). The reason for this is that users at the time of searching were logged into the gmail accounts. However, you still have a lot of useful information that is provided by Analytics that you can still use.
The basic rule that you can so is "DO WHAT WORKS". Google Analytics will provide you with the information of what works and what your visitors are looking for. Put more effort in the field that you find that more online users from Google are visiting your site for. You will easily learn from this tool which pages on your website are the most popular simply by the number of visitors that land on the particular pages.
These tools are simply awesome and provide you with all the analysis that you would ever need about your site. However, this has little to do with SEO and more to do with the analytical process. Therefore, Google also provided beginners with another SEO tool that provide users with more technical information that is very useful when it comes to search engine optimization.
The Google Webmaster Tool
This is the last most useful SEO tool that beginners need to put into good use as far as search engine optimization is concerned. This also another free SEO tool by Google that you need to put into good use. Setting up Google Webmaster Tools is very simple and all that is needed is to verify ownership of the website that you need analysis on.
This is the mother of SEO tools that Google decided to provide webmaster with. You will need to submit a sitemap of your website for indexing. Google will then provide you with SEO related info that you will find to be very useful in your internet marketing campaigns for your website.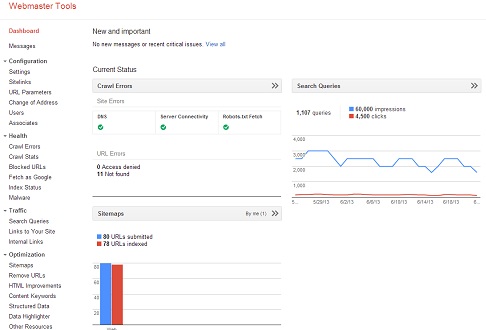 Google Webmaster tool also provides you with pages that have been indexed by the Googlebot, any errors that might have been found during crawling and a bunch of other SEO related information about your site. The best thing about Google Analytics and Google Webmaster Tools is that you can actually have information on various websites all at the same place. You do not need to have a different account for different websites that you have. All the analysis that you will need will all be in the same place.
The information provided by Google webmaster tool does not require an SEO genius to analyze. You can simply go through the different tabs and understand how your website performs and simply know what you need to do and where you need to improve as far as Search Engine Optimization is concerned.
All the tools above are absolutely free and they are all provided by Google to help visitors in their online campaign. If you put these free SEO tools by Google in 2014, this will be your year of success online and you will not need any expensive software to run your SEO campaigns.