Search engine optimization is a concept that has been changing over the years. In past years, SEO was a rather simple task with various 'black hat' strategies working out for websites. A concept like keyword stuffing in the past years was something that would rank websites very fast but at the moment that is not the case. In fact, you will be killing your site on searches. Over the years, SEO experts have also been changing their SEO strategies.
With time, Google and other search engines have been changing their algorithms in their quest to provide their online users with quality content. Many websites that incorporated blackhat techniques in their SEO strategies have majorly been affected by these changes.
The Effects of Google Panda and Penguin on SEO Strategies
Two major changes by Google that affected many websites happened within the past 3 years. First was the Google Panda and recently the Google Penguin. The objective of these changes was to provide quality content to online users improving the online experience of Googlers.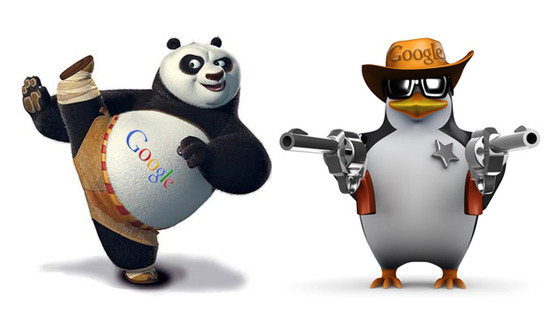 Google Panda Effects on Websites
In February 2011, many websites faced the wrath of Google Panda. When Google Panda was introduced, it eliminated all those sites which had poor quality content from Google's index. Google Panda was so intense that it is believed to have affected more than 12% of search engine results.
The main purpose of Google Panda was to completely eradicate sites that did not take time to create their own original content. Most of the sites which were using duplicate content to achieve high rankings were removed from Google's index when Panda was introduced. Since February, Google Panda algorithm has been periodically updated by Google and has become better and better with time.
Google Penguin Effects on Websites
On April 24, 2012, Google Penguin was first rolled out. The Penguin algorithm removed websites that used poor link building strategies from Google's index. Sites which were using black hat techniques like duplicate content, keyword stuffing and cloaking were the most targeted by Google Penguin. This move is said to have affected 3.1% of websites in English.
The second Penguin update was rolled out on May 25, 2012 and another followed on October the same year. Google is still updating its Penguin algorithms. As this continuous, black hat techniques are slowly being proven to be a complete waste of time.
SEO Strategies that still work in 2014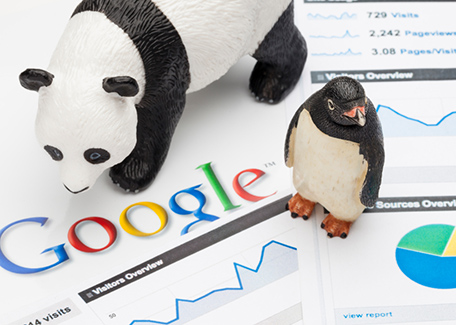 After the release of Google Panda and Google Penguin, web masters had to become smarter, get rid of poor linking techniques and embrace Search Engine Optimization strategies that still work.
We will look at a few methods which still work but bear in mind that Google is continually updating its algorithm. To stay on the safe side, avoid duplicate content and spamming and other poor link building techniques.
Here are the SEO strategies that can help you to get your website to rank.
Creating Quality Content for your Web Properties
Quality content is not the kind of content that is intended to directly market your products. No one will follow your site if all you do is advertising. Good content will offer readers helpful information. It is intended to teach rather than to promote.
The best content will place your reader's needs before yours. Instead of promoting your brand, it will offer valuable information or an answer to a question. Quality content will create a buzz. Content includes blog posts, articles, videos, images and infographics.
How to succeed in content creation
Focus on trendy topics
Create interesting and engaging pieces of content
Opt for a narrative tone when writing content
Focus on stories which people can relate to
Think of the questions that your target audience would want answered
Always post valuable information
Always post up to date information- when it is most needed
Post content consistently to maintain a loyal readership
Making Social Media Work for you
We all know that social media is a good avenue to promote your brand but how comes it doesn't work for everyone. Social media can work for every brand but you have to do it right. You have to select the social networks which are your main focus and where your kind of business is likely to succeed using. For instance, if you are a photographer then you must make good use of PInterest.
You will not get any traffic on social media sites if you use it purely for advertising. Use your business page to help people. Give people information about your industry that is helpful. Most people use social media so it can be the greatest way to get massive traffic if you know what to do.
Social media Tips
Post high quality content that people will want to share
Update your social media profile and place the relevant links to your site
Make social media posts continuous and engaging so that readers can maintain interest
Use social media to educate
Open your business page on more multiple social networks and post consistently
Remember, social networks should not be used directly for marketing
Quality Guest Blogging
Most people will be surprised to find guest blogging on this list. Well, Google punished sites which were using guest posting for the wrong reasons. However, guest posting when done right is not considered a black hat technique. If your main intention of guest posting is to find a back link then that's where there is a problem. However, if you follow the best guest blogging practices mentioned below, you will witness an improvement in your website rankings.
Important guidelines on guest blogging
Create valuable, relevant and high quality posts
Look for relevant and useful websites to post on
Make sure you look at the writing style of the blog you want to write for
Look for relevant blogs which have an impressive ranking
When guest blogging, always write your best. People will want to follow you after reading the guest post.
Bottom line
The best SEO strategies will offer your business what you really need and that is more relevant traffic. Reputation and online authority is important but only if you are being recognized by the right people- those who will help your business grow.
Spammy links may get you traffic that is neither relevant nor valuable.  All the SEO strategies that still work may require time and some resources. However, you will get the ROI you really want and watch your rankings improve naturally for a long time.