Social media platforms are very different. Content that may work well on Facebook may not receive the same response on Twitter or G+. That is why you need to create posts that are suitable for each platform. Social media marketing is a very important strategy of internet marketing and therefore it should be used wisely especially because of the impact it has on search engine optimization.
Social Media Marketing Strategies on different Social Media Networks
In this article, we are going to look at how to create the perfect social media post for different platforms. This can make a lot of difference especially with the amount of competition that has shifted online. Read and learn how you can build your brand online simply by social media marketing strategies that work.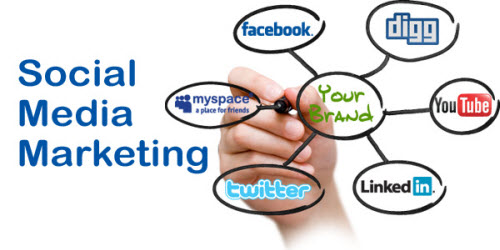 Posting on Facebook
When posting on Facebook always remember to:
Keep the posts positive: Facebook users prefer positivity. It promotes engagement and sharing.
Include images of size 800 x 600. Posts which have images receive better engagement.
Use simple images which can be viewed on your mobile phone. Research has shown that more than 80% of Facebook users prefer accessing the site via mobile devices.
Comment and respond to the users queries. Conversations will build a loyal fan base.
Find out when your audience is most available and post at this time.
Include links on your posts. Shorten the link using bitly.com which can also help you to track how many people are clicking on it.
Provide information but do not offer everything on the post so that fans will want to click on it.
Engage in conversations with the readers like posting questions or asking for their opinion
Posting on Pinterest
When posting on Pinterest remember to do the following:
Research has shown that on Pinterest images that do not have human faces get shared more.
According to research, images with bold dominant colors like red and orange get more clicks.
Vertically oriented images are more likely to be repined compared to horizontally oriented images.
Always add keyword rich comments when adding a pin.
Posting on G+
Tag people and brands on your post. They will get a notification and probably respond.
Post something that is currently trending to increase your brand's visibility and show followers that you are also up to date.
Add hashtags when posting. Google Plus will add hashtags automatically when you post key topics.
Avoid tiny images and thumbnails. Instead use full size images which will stand out.
People don't normally comment on G+ so when they do, make sure you extend those conversations.
Find communities on G+ which you can contribute in and engage in conversations.
Posting on Twitter
When posting on Twitter, remember to:
Always give a straight forward call to action so that your readers can know what you expect them to do.
Avoid abbreviations and use good grammar.
Shorten all your links using bitly or any other link shortener.
Use questions, facts and figures when posting messages.
Use mentions to entice people to engage in a conversation with you.
Retweet relevant content
Always add images or a video to make your posts more engaging.
Posting on YouTube
When setting up your videos on YouTube, it is important to:
Upload videos with a catchy title
Make sure the title is informative and tells viewers about the content of the video.
Place a call to action within the description so that viewers know what you want them to do.
Include keywords in the description slot
Add links to your site at the description
Add tags when using keywords to make your video more searchable
How to Create the Perfect Blog Posts
Always use keywords in the first paragraph and possibly the first sentence
Keep posts between 500 to 800 words. This length is good enough to pass your message across and not too long to lose your readers attention.
Use links within the post. The links should direct readers to other blog posts, your contact information or other pages which readers may be interested in.
Always use an engaging keyword rich title.
Add an image or graphic to your post to make it more engaging.
Include a summary of the post at the end that has a call to action.
Share the blog post on social media platforms.
As you plan on implementing the tips mentioned above on your social media marketing, always remember that you need great content that people would actually want to share. You may need to hire professional SEO copywriting experts to develop the content for you. How have you succeeded posting on social platforms? We would like to hear from you. Feel free to drop a comment below.