When the internet came along, information sharing was taken to a whole new level. Marketing is all about sharing information to your target audience and that's why businesses are using the internet in advertising now more than never. In the past few years, we are seeing more and more businesses investing in inbound internet marketing techniques.
Inbound tactics include publishing content on their official website and using it to market instead of posting advertisements on external sites. However, this is not the only trend that is popular in 2014.
Let's look at the popular internet marketing trends that we expect to see in 2014.
1. SEO and social signals
Search engine optimization has always been one of the top internet marketing techniques but this year, it is expected to carry more weight in terms of organic search rankings. In 2014, content that has received lots of social signals is going to be highly valued by search engines. This is the content that is going to rank well in organic search results.
What this means is that, you should be focusing on generating quality content that will attract massive social signals. Search engines like Google are looking for results that will give users the most appropriate answer to their queries. This is why blogs, articles or product pages that have been shared via multiple social networks are given a lot of value. Each social signal serves as a stamp of approval, that is, a sign of trust.
Tip: To make this work for you, make use of social share plugins on your site and encourage your viewers to share your content as much as possible.
2. Diversify social media marketing
When social media marketing became popular, businesses concentrated on the main social networks- Facebook, Twitter, Google+ and LinkedIn. However, things have changed and you need to re-strategize and expand your social media marketing tactics. There are new social media marketing sites that are coming up every other time and some of them can help you in your marketing endeavors.
A great example is Pinterest. This platform has given businesses very many new options of engaging their target audience. Any business that wants to reach out to an audience fast should take advantage of Pinterest in 2014. Other social media platforms that have gained popularity and need to be considered include Tumbler and Instagram.
Branching out to multiple social media networks will attract a larger number of consumers. Don't just stick to your Facebook and Twitter pages. This is not to say that you should have a presence in all social networks online. Figure out which social networks are right for your business and spend time working on them.
3. Content will garner even more value
Every other year, we are seeing search engines favoring sites that produce valuable content consistently. This year, there will be even more emphasis on great content. Your internet marketing efforts should be aiming at giving audiences information that is valuable and entertaining. Companies that have managed to place content marketing at the top of their campaign have built a loyal following online.
Start by creating a unique content marketing strategy for your brand. Create different types of content including articles, videos and newsletters. This content should be exceptional if you want it to build a positive image of your brand. Internet marketing that is done through engaging content is effective and attracts target audiences so it has more value in the long run.
4. Image-based content
Online visitors are very visual. If they don't like what they see (not read), they will move on to a different site no matter how interesting your textual content is. What does this mean? You need to make image-centric content an integral part of your internet marketing campaign. Think of how you can use images to make your information easily digestible and readable.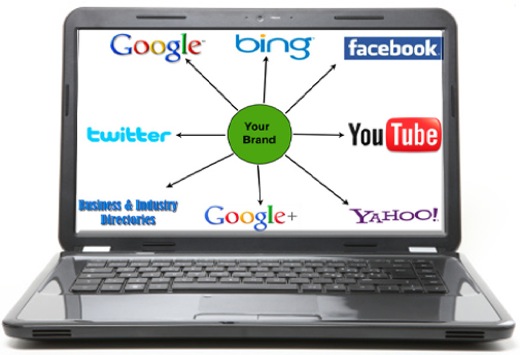 Look at some of the blog posts online that are getting so many social shares. What do they have in common? You will realize that in most of these blog posts, images have been used to break down content and emphasize on certain points.  Another way to reduce the textual content on your web pages is by using infographics. Infographics are great if you want to break down a lengthy topic into smaller points. It enhances understanding and user engagement.
Incorporating images in your internet marketing campaign will work but it has to be properly executed. You should also make use of image based social networks like Pinterest to boost the content on your web pages.
5. Simplicity
Many people assume that in order for their advertising or campaign messages to work, they must be surrounded by a lot of hype. Well, this is not the case. If you think of some top brands like Apple, you will realize that their advertising campaigns are simple and minimalistic. This is exactly what your brand needs to focus on.
Web visitors are looking for a simple, clean and uncluttered design. If you ever offer a product or service, your main aim should be to simplify the consumer's life. The most successful internet marketing strategies are very simple. You don't require the highly digitized version of a software or product in order to run your campaign. Go with a simple version and you will love the outcome.
6. Making content accessible to mobile users
By the end of 2014, mobile usage had increased tremendously. People are accessing websites and buying products online using their mobile devices. That is why companies should focus on providing content that is accessible via mobile devices. You can invest in a mobile website or use a responsive website design. The idea is to ensure all mobile users will have a great experience accessing your site using their devices. If you don't do this, prepare to lose customers to your competitors who chose to invest in mobile friendly content in 2014.
Wrapping up
These are the main considerations when it comes to internet marketing in 2014. As you create your campaign, evaluate each one of these factors and see how you can use it to succeed. Do you think I missed out on anything? Leave a comment and let's discuss.